Socket Weld Pipe Fittings
Kingdom (KI) Brand Stainless Steel Socket Weld Low Pressure Pipe Fittings
ASTM A351 CF8M 316 Stainless Steel construction.
High Quality Lost Wax Casting manufacturing process.
Dimensions in accordance with ISO 49-1983 and Pressure rated in accordance with ISO 4144.
The following Pressure/Temperature chart should be observed: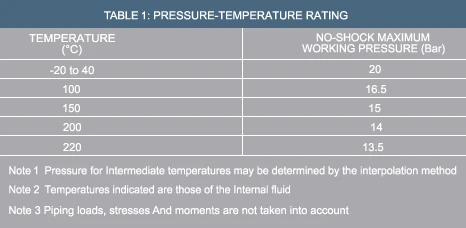 Socket Weld end connections in accordance with ASME B16.11.
G.C.Supplies UK Ltd are the official sole UK distributor for Kingdom (KI) brand Stainless Steel Pipe Fittings.
All our Socket Weld 150lb Pipe Fittings are material batch tested at the factory prior to dispatch to ensure the very best quality available.
The following Fittings are available ex-stock Manchester:
90 Degree Elbows: 1/2" - 4"
45 Degree Elbows: 1/2" - 2"
Equal Tees: 1/2" - 4"
Cone Seat Unions: 1/2" - 4"
Full Couplings (Sockets): 1/2" - 4"
Other Fittings can be manufactured to order such as Reducing Inserts, Socket Weld Hose Tails and BSP x Socket Weld Adaptors. Please ask our Sales Office for further details.